«terroir» and «character»
The development of the identity of the terroirs certainly is one of our key strengths. The search for the perfect match between soil and grape variety required considerable investments. In fact, the 86 hectares of domains in our property were needed to be replanted almost entirely with the aim of finding the ideal grape varieties for the various terroirs. We cultivate all our vineyards with respect to the environment, either according to the specifications of integrated production or of organic production.

It is with the vine that the vinification process begins. We pay particular attention to both grape quality and ripeness. In the cellar, we then allow the wine to develop in the most natural manner possible by incorporating the characteristics of the terroir and the climatic conditions of the year. To ensure the freshness and fruitiness of our crus, all white wines are vinified on their own lees. We practice the ancient technique of 'stirring' that consists of continually stirring the lees to prevent a too rapid development of the wine and to foster the growth of the characteristic flavours of the grape varieties.

Terroir and character are the two key words to describe the wines from Domaines Rouvinez !
« Making good wine is a skill. Fine wine is an art »
Robert Mondavi, Harvests of Joy
Location : Coteau de Loèche
Taille : 26 hectares, 10 of which are vines.
Grape varietal : Cornalin, Petite Arvine, Humagne Rouge, Syrah
Estate : Rouvinez
Profile : This domain of light and sandy soil is situated on steep terraces in the middle of small pine and oak woods.
Wines : Château Lichten Blanc et Château Lichten Rouge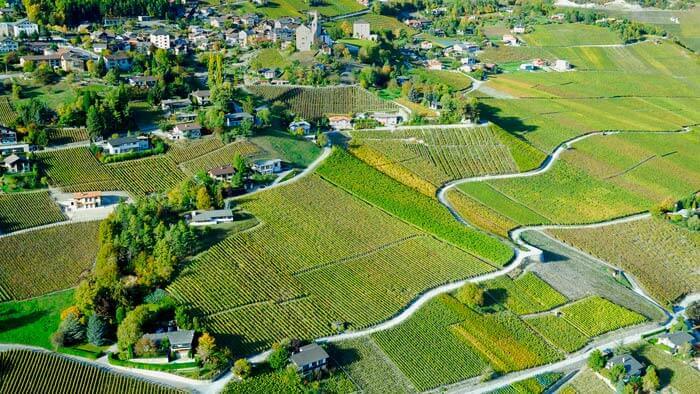 Location : Hillside between Sierre and Crans-Montana
Size : 2,2 hectares
Grape varietal : Sauvignon White
Estate : Rouvinez
Profile : The Noble-Contrée domain is located facing some of the higher mountains in the Valais Alps. Its limestone soil is perfectly adapted to the Sauvignon Blanc varietal.
Wines : Sauvignon Blanc Noble Contrée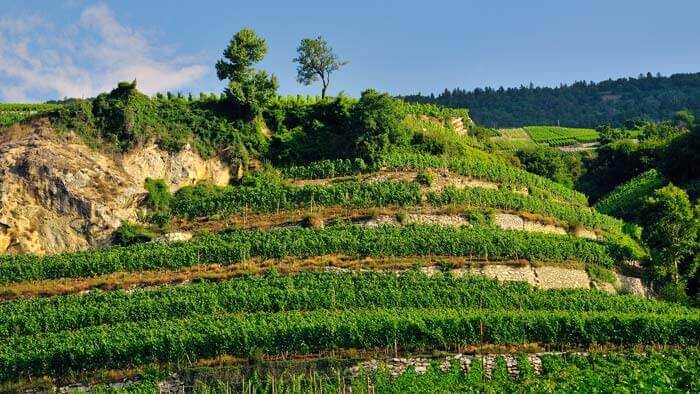 Location : Sierre
Size : 2 hectares
Grape varietal : Marsanne (Ermitage)
Estate : Rouvinez
Profile : This domain consisting of warm and rocky soil, benefits from optimal sunshine due to its location.
Wines : Marsanne Prafalcon et Marsanne Sierre Grand Cru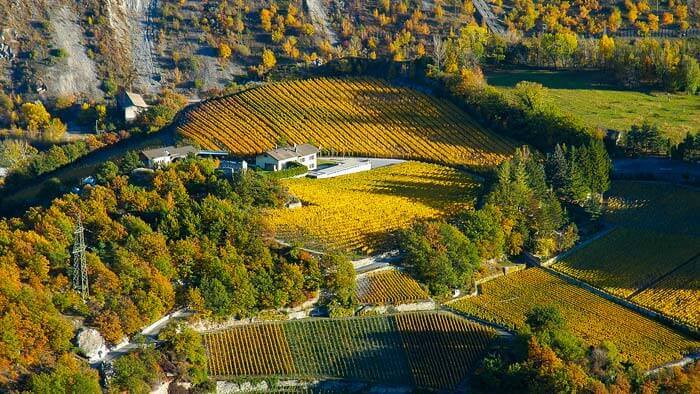 Location: Sierre
Size: 8 hectares, of which 2.5 hectares are vines.
Grape varietal: Pinot Noir
Estate: Rouvinez
Profile: This is the oldest Rouvinez family vineyard. Géronde is a hill of moraine type soil which is stony and filtering. The roots of these vines can grow downwards to a depth of up to 10 metres. Rouvinez wines can be tasted in the family's historic cellar located in the heart of the vineyard.
Wine : Pinot Noir Colline de Géronde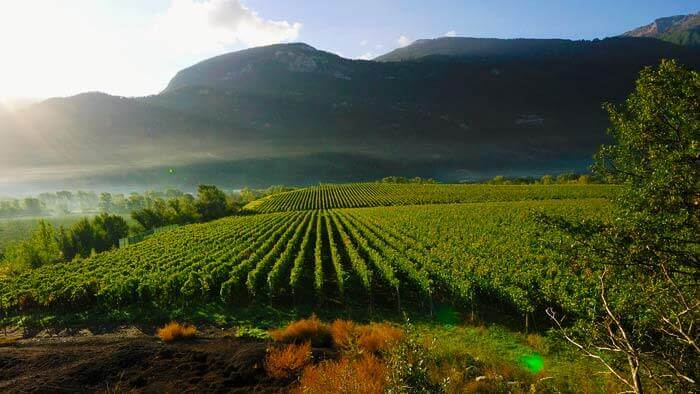 Location : Sierre
Size : 4 hectares
Grape varietal : Syrah
Estate : Rouvinez
Profile : This domain, of which the rocks are rich in alluvium and moraine shards, rises up above the centre of the valley.
Wines : Syrah Crêta-Plan et Syrah Sierre Grand Cru
FROM CHERMIGNON TO ST-LÉONARD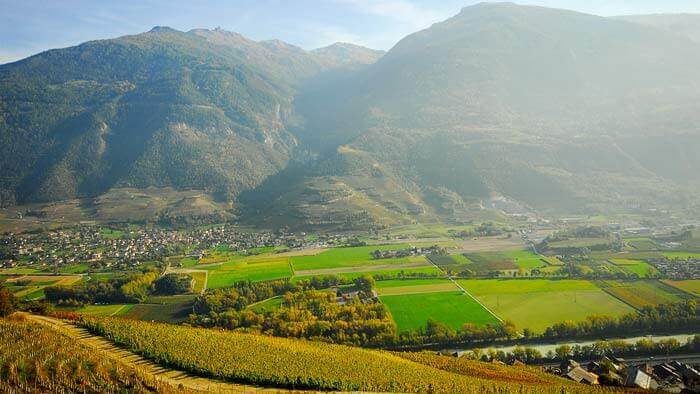 Location : Chermignon
Size : 0,7 hectare
Grape varietal : Muscat Blanc
Estate : Rouvinez
Profile : Located on the right hand side of the Rhone River, its steep terraces with schistose soil benefits from its very sunny situation.
Wines : Muscat d'Ollon
Location : Grône
Size : 11 hectares
Grape varietal : Merlot, Pinot noir, Gamaret
Estate : Rouvinez
Profile : A torrent runs through this vineyard providing constant humidity. It has light and permeable soil composed of sand and gravel. It has sufficient warmth from the sun despite being situated on the left side of the Rhone. This exposure is extremely favourable to Merlot as it is less hot and the temperature more regular.
Wines : Merlot Clos St-Marcel, Cru Carré rouge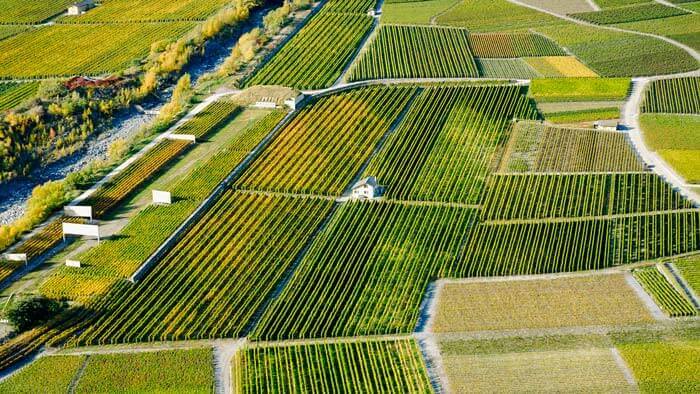 Location : Chamoson
Size : 5 hectares
Grape varietal : Sylvaner (Johannisberg)
Estate : Rouvinez
Profile : This domain is situated on the evacuation cone in Chamoson, half way between Sion and Martigny. Its geological make-up is characterized by an abundance of limestone elements, with a chaotic structure comprising rough sand, silt, gravel and stones, sometimes mixed with clay.
Wines : Johannisberg Ravanay
Location : Chamoson-Leytron
Size : 14 hectares
Grape varietal : Cornalin
Estate : Rouvinez
Profile : This domain is located on the slopes of the alluvium cone of Chamoson-Leytron. Its soil is deep, silty, well-drained and airy.
Wines : Cornalin Clos de Montibeux, Cornalin Leytron Grand Cru
Location : Coteau de Leytron
Size : 4 hectares
Grape varietal : Humagne Rouge
Estate : Rouvinez
Profile : The vineyard is tucked in just under the Ardève mountain, a massive block of stone which accumulates heat, ideal for the late maturation of Humagne Rouge.
Wines : Humagne Rouge Ardévaz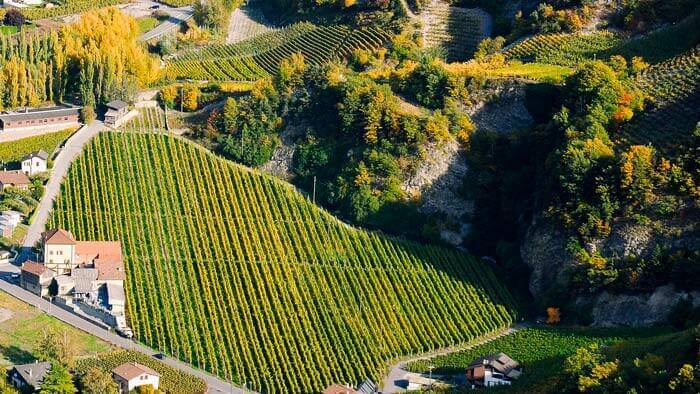 Location : Commune de Saxon
Size : 2,2 hectares
Grape varietal : Heida (Savagnin Blanc, Païen)
Estate : Rouvinez
Profile : Profile: Located on the left bank of the Rhone, the Domaine is ideal for the Savagnin grape variety which, in Valais, is used to produce a wine called Païen in French and Heida in German. This variation which is also used to produce the famous Vin Jaune du Jura has been present in the Valais from time immemorial.
Wines : Heida La Leyraz
Location : Fully
Size : 1,8 hectares
Grape varietal : Petite Arvine
Estate : Rouvinez
Profile : The plot of land consisting of walls made from pieces of gneiss reflects the heat of the sun on a very steep slope. The dry climate, warm and with little wind, and the warm and rocky soil of the Domaine are especially suited for the Petite Arvine which needs the best locations.
Wines : Petite Arvine Les Seilles